Swim in your pool all year round!
[row_fluid][one_half]
A heated pool used to be viewed as a luxury item.

Not any more!!
If you are considering renovating your swimming pool, renewing the tiles, updating the filtration system, why not add a heating system too?
Our engineers can discuss the available options with you for heating your pool.[/one_half][one_half]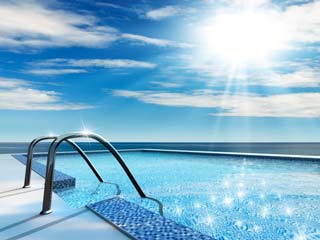 [/one_half][/row_fluid]
You've got to be either extremely tough or extremely stupid to use an unheated pool outside of the months of June to September. Unheated pools remain unused my most pool owners for almost two thirds of the year.
Electrical pool heat pumps are the only legal and economical way of heating a swimming pool to give you an all year round swimming season. Even solar panels can only claim to extend your swimming season.
A heated pool will greatly help with increasing your holiday rental bookings as most holiday makers that book out of season want a heated pool.
So how does a Pool Heat Pump actually work?
[row_fluid][span8]Quite simply, a pool heat pump works by using electricity to drive a system that applies varying degrees of pressure, created by a condensor and an evaporator, to a refrigerant gas to generate heat that is passed to water circulating through the system.
Cold water is taken from the pool and passed through the circulatory system where the gas is heated by a reduction in pressure applied by the evaporator. This heat is passed to the water through simple heat conduction, and the heated water then flows back into the pool which adds warmth to the rest of the pool water.
The gas cools as it passes heat to the water, and is cooled further through an increase in pressure applied by the condensor unit, and the process starts again.
Now you know how it works, call us and ask for one of our engineers to call at your house and look at the possible locations for an installation, and leave you with a free quotation.[/span8][span4]
[/span4][/row_fluid] [row_fluid][one_half]
[/one_half][one_half]
[/one_half][/row_fluid]